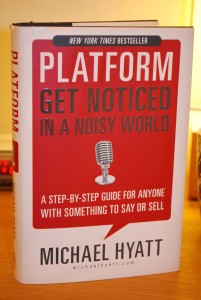 When I started this site, I did not have much experience of blogging. I had some experience of twitter but not much really. I needed a running start so a friend recommended me to have a look at Michael Hyatt's website. I found Platform: Get Noticed in a Noisy World and decided to buy it. It was exactly what I needed.
Platform is an easy read with sixty short and to the point chapters. It is obvious that Michael knows what he is talking about. He is going through everything from building your product, your home base, your crew and your brand.
Michael have found the balance between what to start with and what to continue with. There is something for everyone, from the beginner to those with an already established platforms.
I found several chapters that was just what I needed now. For example understanding the platform model, how to use twitter, being efficient in writing posts, avoiding various mistakes and ways to engage with the community. Michael does also talk about landing pages, speaking pages, video posts, media kits and how to prepare for interviews. Subjects that I might come back to in the future.
Thanks to how the book it written. It is just as easy to read it from the beginning to the end as it is to browse through it and focus on particular subjects. The book also has a good index and notes section which makes it easy to use the book as a reference as your platform develops.
There were only one subject were I would have appreciated if Michael would have spent a bit more time. That is the subject of Search Engine Optimisation (SEO). I understand that this is a subject that can easily become technical fast but I think Michael is avoiding the subject a bit. He does, for example, not say much about what makes effective SEO tags.
All in all, Platform is a fantastic book. It is a must read for anyone who is serious about building a platform or just posting material on the web with the intention to draw readers. I am so happy I found this book in my early days of blogging. I will definitely come back to it as a reference as I go along.
If you want to get this book, I would recommend that you look here or at your favourite book dealer.